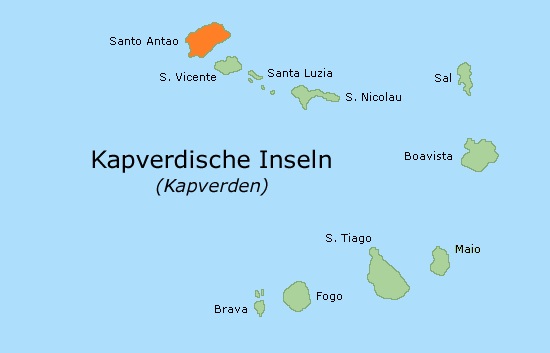 Geographical situation of Santo Antão, Cape Verde islands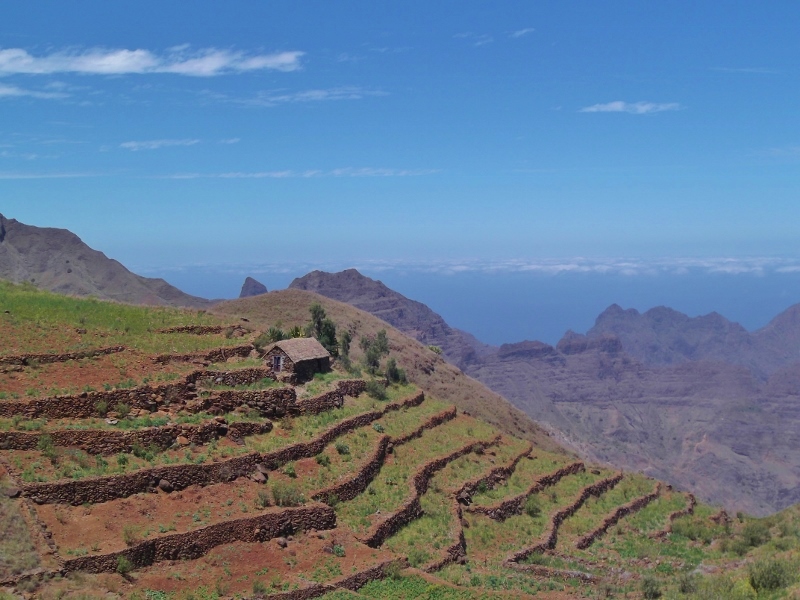 Terraced fields on Santo Antão
Freshly roasted coffee is being grind on a small plantation in Santo Antao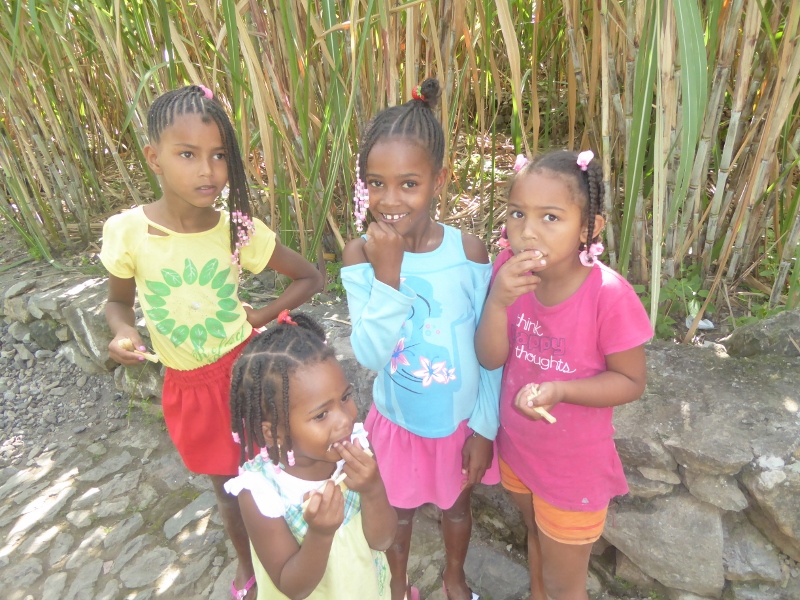 Children in the Valley of Paul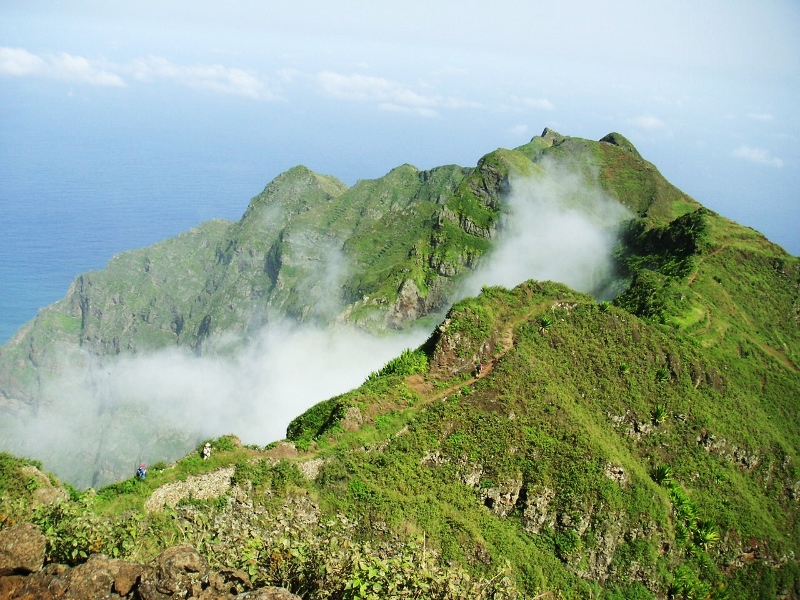 Above the clouds in Santo Antão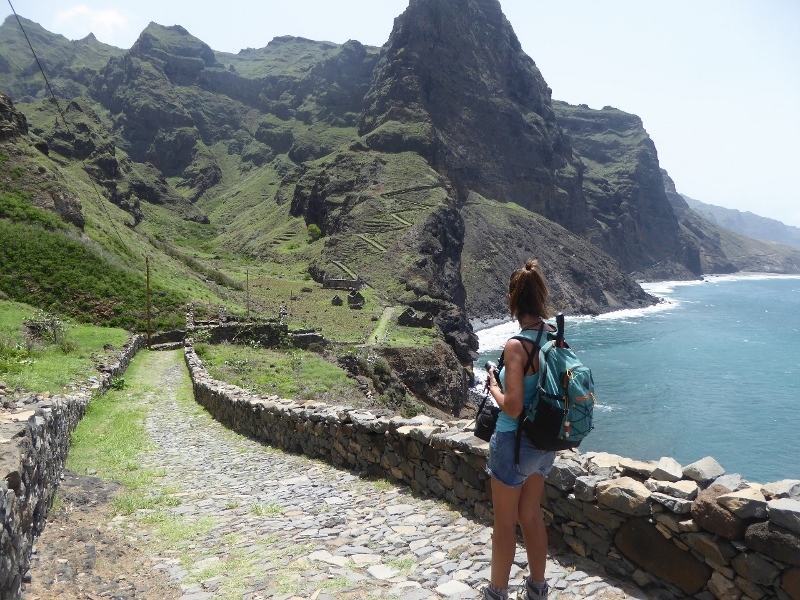 Santo Antão – Hiking on the north coast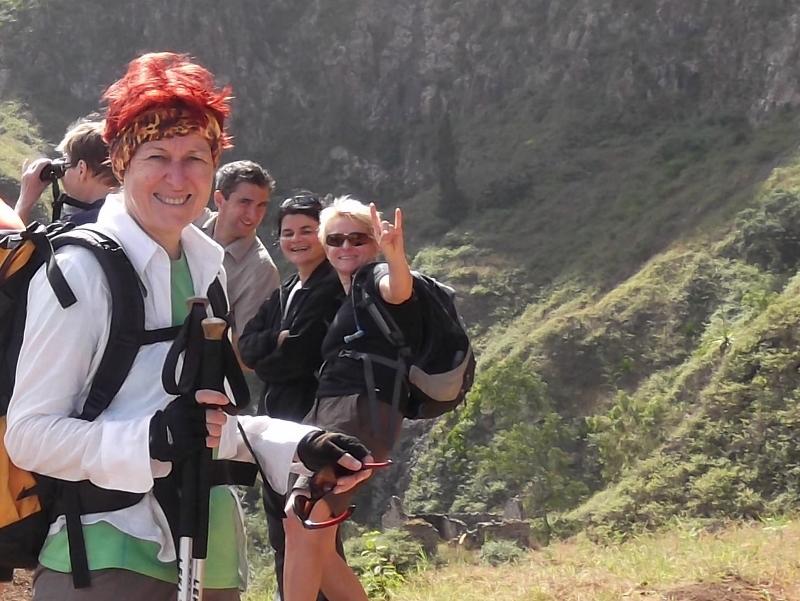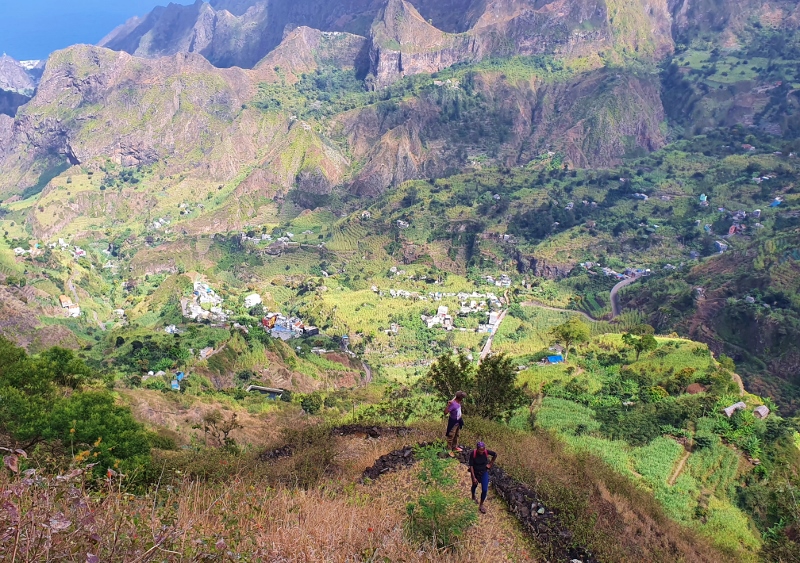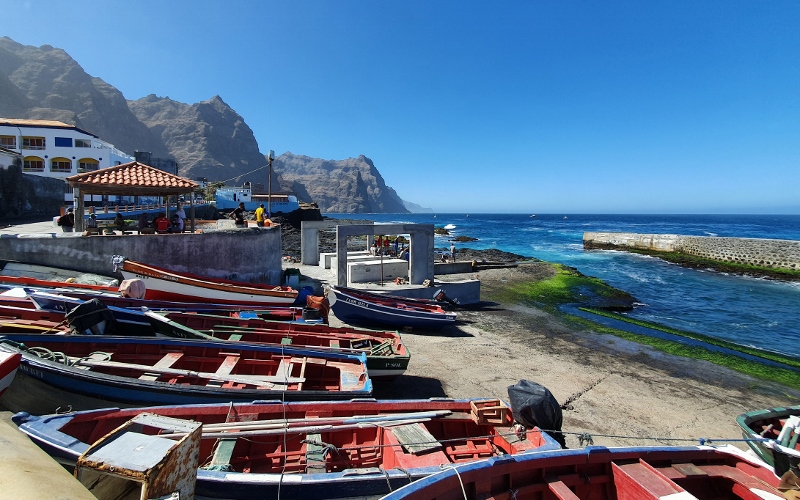 SANTO ANTAO
Your Holiday Destination for Hiking and Nature lovers
Santo Antao belongs to Cape Verde – Barlavento (Northern Islands)

Inhabitants: ca. 47.000
Surface: 779 km²
Santo Antao is a real hiking and trekking paradise. The island provides an endless labyrinth of paths through bizarre landscapes. Huge canyons and valleys, steep coastlines and lonely villages, lunar landscapes and tropical green valleys are good reasons for the fascination of the island. With an area of 779 km², Santo Antão is the second largest island in the archipelago of Cabo Verde and offers a number of the most beautiful hiking tours in Cape Verde.
In many places on Santo Antao Island, time seems to have stopped. Locals are crossing our way, they live in the mountains or are on their way to their terraced fields. We often hear the invitation "Entrá!" – come in! May it be only for a small chat with the friendly and communicative country population.
SANTO ANTAO – the Original Cape Verde
The island of Santo Antao is a holiday destination for people who love hiking or want know the original "Cabo Verde".
Santo Antão is the most northwestern island in Cape Verde Barlavento. It was populated in the 17th century when European immigrants brought African and Creole slaves to the island.
In the northeast of the island, where the trade winds moisten the mountain regions, there are several river valleys, so-called "Ribeiras". The rivers shrink to a trickle in the dryer season, while in a strong rainfall they swell visibly in minute intervals. Then they separate villages from the outside world. Little by little, bridges are built in order to avoid this inconvenience.
A labyrinth of paths connects the villages and hamlets of Santo Antao. For centuries, they have been serving the locals to reach their terraced fields, which are often situated in dizzying heights. Today just as in former times, the farmers work on their land with hoes.
Holiday destination SANTO ANTAO
Santo Antão is THE Cape Verdean island for hikers and lovers of nature. During the last years, a rural tourism has slowly established on the island. It is predominately important to us in VIP Tours Cabo Verde to involve the locals in tourism and thus to offer our visitors authentic encounters and experiences.
Accommodations in the hiking areas are mainly private retreats, but there are also some nice, smaller hotels in local style and with swimming pool.
Santo Antão can be reached by ferry from the island of São Vicente and it makes sense to combine Santo Antao with a visit to Mindelo.
Be guest in Paul Valley
The Valley of Paul on the island of Santo Antão is perhaps the most beautiful valley of the Cape Verde Islands. Tropical fruits such as mango, papaya, bread, sugar cane, bananas and yams are growing all around. Even coffee is cultivated in the slightly higher regions.
The so-called "Grogue", a highly concentrated sugar cane schnapps is produced in Santo Antão in a very traditional way and is famous all over Cape Verde islands. If you visit Santo Antao between March and July, you will probably have the opportunity to watch the production and taste the newly distilled grogue.
If you prefer it individually, come and spend a few hiking days on Santo Antão in an idyllic place in Paul Valley. We will take you on some beautiful and interesting walks in the closer and wider surroundings. And if you feel like it, we organize a barbecue or a small party together with our Cape Verdean neighbors.
Travel offers and roundtrips with Santo Antao
Please note: the exact programs may be subject to change according to the respective flight offers. We are here to help you on this and will be happy to adapt your travel program in order to provide you some relaxed holidays which meet your personal preferences.